The Story of Reach­ing Out

When I was work­ing in Detroit, Michi­gan as a cor­po­rate man­ager, I not only encour­aged my employ­ees to vol­un­teer for com­mu­nity out­reach pro­grams spon­sored by the com­pany, but I par­tic­i­pated as well.  I would visit inner city schools and talk to pre-college engi­neer­ing stu­dents about the impor­tance of a good edu­ca­tion.

In addi­tion to my job respon­si­bil­i­ties, I stayed up many nights work­ing on pre­sen­ta­tions to college-prep high school stu­dents and their par­ents. It was encour­ag­ing to talk to the par­ents after­wards and hear them express their appre­ci­a­tion for what I said to the stu­dents. Most of the par­ents had the same goals and aspi­ra­tions for their chil­dren as I had for my son.
In 2001 after an extended health chal­lenge, I left the cor­po­rate office to become the head chef and cook of the Gothard Kitchen. This was not my idea of how to give some­thing back to the com­mu­nity. Each day I would wake up lis­ten­ing to cars dri­ving down the street in front of my home. The sound of the auto­mo­biles made me feel guilty for not work­ing. Some­how, I had allowed my job in the cor­po­rate office to define who I was.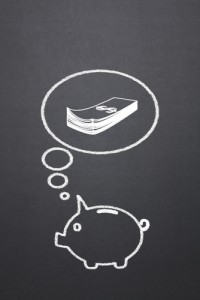 After six months of feel­ing sorry for myself – and after know­ing that my hus­band Don­ald did not think I could sur­vive with­out him due to my poor money man­age­ment habits – I made a deci­sion to learn a new skill: Finances. I went to my local neigh­bor­hood pub­lic library and checked out five finan­cial man­age­ment books writ­ten by the experts. Every day for the next two months, I stud­ied finan­cial man­age­ment. I took the best from what I could under­stand, and I devel­oped a finan­cial pre­sen­ta­tion with­out know­ing to whom I would give the presentation.
While in my home city, I stopped in my local bank for a trans­ac­tion. While "peo­ple watch­ing" in the bank lobby, I had an explo­sive thought. I asked the bank teller if I could speak with the man­ager. I told the man­ager that I had a com­mu­nity out­reach project for low income fam­i­lies in the inner city of Detroit. I told him I wanted them to expe­ri­ence the same bank­ing rela­tion­ships which I felt I was priv­i­leged to have because of my husband's good finan­cial man­age­ment skills.
Before I left the bank, I told the man­ager I had devel­oped a finan­cial work­book using lan­guage about money that at-risk fam­i­lies could under­stand. What I needed from the bank was a man­ager to attend all seven weeks of the sem­i­nar with­out the audi­ence know­ing that the man­ager was in the class. That way, a rela­tion­ship would be built among ordi­nary peo­ple with the same aspi­ra­tions as ours. The bank would be able to bet­ter ser­vice the needs of the com­mu­nity. The bank man­ager agreed to give me that sup­port in just the per­son I needed, Mary Mybia, an invest­ment banker. My team was formed: Mary, my hus­band Don­ald, and me.
I talked to the pas­tor of my church, Pas­tor William E. Joseph, Jr., and he told me, "Go home and pre­pare to begin mak­ing pre­sen­ta­tions right in our church!" Three weeks later I announced my first sem­i­nar. Approx­i­mately 60 com­mu­nity peo­ple reg­is­tered. I stopped by the bank, picked up Mary Mybia, and drove her to Detroit to hear me give my finan­cial pre­sen­ta­tion over the next seven-week period. A new part­ner­ship was formed with the bank and com­mu­nity! And, from that day for­ward, Seven Steps to Wealth Sem­i­nars was born to teach a seven-step process, using bib­li­cal prin­ci­ples, to cor­rect bad money habits. The bank acquired new clients in need of bank­ing services.
Hun­dreds of indi­vid­u­als have com­pleted the classes and ben­e­fited from them. Reach­ing out! Reach­ing across cities!